VINITY | INVESTMENT PHILOSOPHY
Validating the trust our clients place in us is the strongest motivation behind our investment philosophy. The level of personal care and interest we vest in our client relationships is reflected in the exhaustive research and analysis provided by our in-house asset management team. We are not short-term speculators. We are not trying to time the market. We are long-term asset allocators and believe in staying invested while shifting capital to undervalued asset classes when opportunities arise.

We believe in building diversified portfolios based on Modern Portfolio Theory, ensuring adequate return for the level of risk taken. In our view, well-constructed multi-asset portfolios have the opportunity to outperform over the long run, designed to protect capital in down markets and participate in up markets.
It is essential to have a disciplined, repeatable investment process forming the structure for future asset allocation decisions. Our asset allocation framework leverages an in-house forecasting process based on mean reversion theory and seeks to identify asset classes that are either over-or under-valued. The output of this exercise informs the asset allocation decisions incorporated into our multi-asset portfolios. Through dynamic portfolio management, we continuously review our asset class targets and implement changes consistent with our outlook as necessary.
Our fund selection process seeks to identify managers with a consistent track record of implementing investment strategies producing above-average returns with below-average risk. We are proponents of active management but recognize passive management has its merits and can be useful in specific applications. We incorporate both management styles into our models utilizing each of their strengths to develop a best-in-class set of portfolios.
Through a vehicle agnostic approach, we can offer unique solutions incorporating mutual funds, ETFs and individual stocks. Our goal is to utilize all available tools to deliver the culmination of our portfolio construction process in the most efficient manner, inclusive of our best thinking.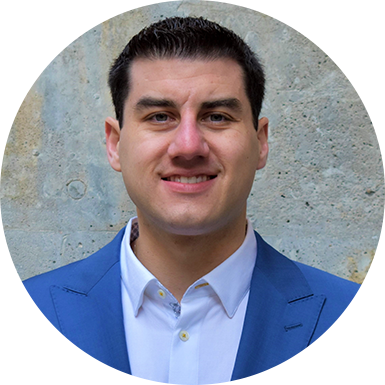 Michael Friedman, CFA
Director | Asset Management Group
VINITY has carefully chosen Michael to serve as the Chief Investment Officer and the director of VINITY's internal, dedicated asset management team. Michael's education and broad experience demonstrate his success in crafting solutions for investment committees and individuals alike, acting with prudence and exercising independent judgment throughout the investment decision-making process.
Michael's meticulous, thoughtful and methodical approach is evidence of his commitment to our clients and to maintaining the integrity of the investment profession. Michael's approach to portfolio construction is supported by multi-scenario theoretical testing and consideration of both focused and large-scale outcomes. Our strong belief in Michael's oversight and disciplined approach brings excitement and confidence that the trust our clients place in us will be validated both now and far into the future, not only for them but for their generations to come.
CFA® and Chartered Financial Analyst® are registered trademarks owned by CFA Institute.
Explore Our Suite of Solutions:
Our Tax Group provides access to an array of Tax Services, from Basic Tax Filing to Actionable Tax Strategies Crafted by a Certified Tax Coach with expertise in Real Estate, Business Owner and Investor Arenas.
Vinity Risk Management Group
Experienced insurance advisors craft comprehensive protection strategies for home, auto, liability and business insurance using a variety of well-known and financially-strong Independent, national carriers.